Hi friends,
Oh....it was a rough day today going back to work after the long weekend. But I survived and have moved onto to dreaming about decor updates for the family nest. First up, new art work for the dining room. We have an empty wall at the back of the room that is begging for some art as shown here:
I would love to do something with a beach vibe that fits in with the light and bright look we covet. This photo on Etsy is top of my list: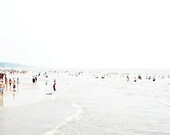 I would frame it with a simple white frame and no matting. The only issue is...do I make the investment and hope that it looks the same as the image on Etsy? If it's darker grey than my computer screen shows it may just blend in with the wall color. Hmmm....will have to think on this.




The other art that I am considering includes:

I wonder if these people knew they were being photographed? I'd be looking at them every day while eating in our dining room he-he.
And I leave you today with this summary of the weather around here (which probably explains why I am searching for summer beach art ;)
Thanks for stopping by :)